Welcome to Oakley Medical Practice
With patient's needs at the heart of everything we do, our website has been designed to make it easy for you to gain instant access to the information you need.
As well as specific practice details such as opening hours and how to register, you'll find a wealth of useful pages covering a wide range of health issues along with links to other relevant medical organisations.
Of course we're not just here for when you are unwell. Our team of healthcare professionals and back-up staff offer a number of clinics and services to promote good health and wellbeing whatever your medical condition.
We are sorry to announce that Dr Dawn Smith left the Practice on Thursday 30th November 2023.
Dr Smith has been a formidable part of our Team and she will be missed by her patients and colleagues alike. We wish her all the very best for the future.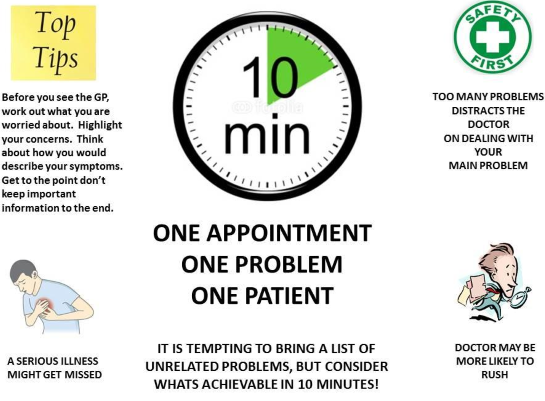 One problem
PLEASE DO NOT ASK THE DOCTOR TO SEE ANOTHER MEMBER OF YOUR FAMILY OR DEAL WITH MORE THAN ONE PROBLEM DURING YOUR APPOINTMENT
PLEASE DO NOT ASK THE DOCTOR TO SEE OTHER MEMBERS
OF YOUR FAMILY OR DEAL WITH MORE THAN ONE
PROBLEM DURING YOUR APPOINTMENT
TARGET TRAINING TIMES
PLEASE TAKE NOTE OF OUR TARGET TRAINING DAYS WHEN WE CLOSE AT 12PM
NHS 111 Online
111 online is a fast and convenient alternative to the 111 phone service and provides an option for people who want to access 111 digitally.
Your needs will be assessed and you will be given advice about whether you need:
Treat yourself at home
Go to a Primary Care Centre
If you need face to face medical attention you may be asked to attend a Primary Care Centre.
Click here to access NHS 111 online or call 111 to speak to a staff member.
Newsletter
To receive future editions of the newsletter straight to your inbox sign up below.
When We Are Closed
We ask that you only use the out of hours service for urgent problems that will not wait until surgery is next open. West Yorkshire Urgent Care and Local Care Direct provide out of hours care for our patients. If you do require a doctor simply ring the surgery number and your call will be diverted to the service.
Call the new 111 service when you need help fast but it is not an emergency. Calls are free from landlines and mobile phones. NHS 111 is a new service that's being introduced to make it easier for you to access local NHS healthcare services. You can call 111 when you need medical help fast but it's not a 999 emergency. NHS 111 is a fast and easy way to get the right help, whatever the time.